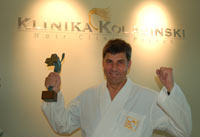 The 12th edition of the Success of the Year 2011 in Health Protection – Leaders in Medicine competition organized by Termedia Publishing House ended with the success of Dr Jerzy Kolasinski.
The Jury consisting of prominent personalities of the Polish medicine awarded the title of Manager of the Year in Health Protection – in the category of Non-public Health Care Center to Dr Jerzy Kolasinski in recognition for his 27-year-long work in the field of non-public health protection and creation of such an exemplary medical company as Klinika Kolasinski. The award ceremony took place on December 14, 2011 in the Museum of John Paul II Collection Porczynski Gallery in Warsaw. The meeting was dignified by the Speaker of the Sejm (the Lower House of the Polish Parliament) Ewa Kopacz and Health Minister Bartosz Arłukowicz, who personally presented this year leaders in medicine with the awards.
In recognition for Dr Jerzy Kolasinski's achievements and his assiduous effort in creating and managing his own clinic, the province governor Piotr Florek send a congratulatory letter to our laureate.